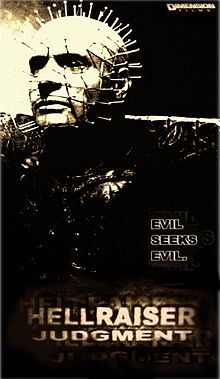 Hellraiser: Judgement is an upcoming Hellraiser film. It is the tenth installment in the franchise. It was released on February 13, 2018 on Blu-ray and DVD.
Detectives Sean and David Carter are on the case to find a gruesome serial killer terrorizing the city. Joining forces with Detective Christine Egerton, they dig deeper into a spiraling maze of horror that may not be of this world.
Paul T. Taylor as Pinhead
Heather Langenkamp as Landlady
Gary Tunnincliffe as The Auditor
Crew:
Directed by Gary Tunnincliffe
February 13 2018
Gary Tunnincliffe wanted Doug Bradley to reprise the role as Pinhead, but he turned it down due to Dimension films refusing him to look at the films script. In an interview with Midnight's Edge, it was revealed that Tunnincliffe was annoyed at Bradley's lack of enthusiasm for the project and didn't want that kind of negativity to affect the film.
One of the cenobites is called The Surgeon, but there is already a cenobites by that name, Surgeon, who was featured in Hellraiser: Hellseeker.
Heather Langenkamp is best known for playing Nancy Thompson in A Nightmare on Elm Street, A Nightmare on Elm Street 3: Dream Warriors, and herself in Wes Craven's New Nightmare.
Community content is available under
CC-BY-SA
unless otherwise noted.