Hi. Your contributions look great and I have given you admin and bureaucrat rights on the wiki. Good luck with it! -- Wendy (talk) 03:55, April 18, 2011 (UTC)
I Would Like To Be An Admin
[
edit source
]
Hello, FrozenBlueToes, I saw your bulletin on the front page, and I am willing to take the admin position. Here, You can see that I am an experienced admin on another wiki, and I can totally handle this. Desu! 04:20, March 24, 2012 (UTC)
I gave you admin rights. FrozenBlueToes 01:32, March 25, 2012 (UTC)
Ideas To Vastly Improve wiki
[
edit source
]
I would like admin rights, I've made a logo for the wiki and on top of that, this wiki needs a lot of work. I've already started fixing several articles. I want this to be the ultimate Hellraiser resource on the internet. The other Hellraiser wiki has a lot of information on the comics, and none on the books. I want to add to our wiki's knowledge of the films a comprehensive body of facts concerning the comics and the novels.
rm2kking 04:10, February 04, 2016

I would like to be an admin as well. I am already an admin of the Horror Emporium Facebook page, one of the most successful Horror-themed Facebook pages in existence.189.142.111.98 23:19, April 19, 2016 (UTC)
Are You Still Looking For Help?
[
edit source
]
Greetings FrozenBlueToes,
I know your message on the Main Page is a few years old..but I was inquiring as to whether you are still looking for any more potential Administrators to help you out with the wiki. I am an experienced Administrator, having been an Assistant Lead Administrator on the Warhammer 40,000 Wiki as well as a Founder and Lead Administrator on two other wikis. I would love to help you guys out, and perhaps give this wiki a much needed facelift. Please write me back if your interested.
Thank you for your consideration!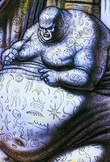 Griot - Living Grimoire (Talk), Et Ad Daemones Ducit. (And It Leads to The Demons) 07:05, August 14, 2018 (UTC)
Community content is available under
CC-BY-SA
unless otherwise noted.